Great Barr Hall consists of a Grade II* Listed Building and a Registered Park built by the Scott Family with imprints from the architect John Nash and landscape architects William Shenstone and Humphrey Repton.
The hall has very strong associations with the lunar society and was used as one of their meeting places when the property was leased by the Galton Family. The lunar society was an exclusive group which never had more than fourteen members which included Matthew Boulton, Erasmus Darwin, Joseph Priestly, James Watt, Josiah Wedgwood along with other eminent people who met at the time of a full moon to assist their way home.
The estate was sold in 1911 and was eventually sold by the NHS who had owned the site for some time. The listed house had been vacant since 1978 and is now in a derelict state having been subject to vandalism, water ingress and dry rot. The registered park has not been maintained for decades and is also in a poor state following several unsuccessful attempts to find a future for the Hall and Park for over 30 years.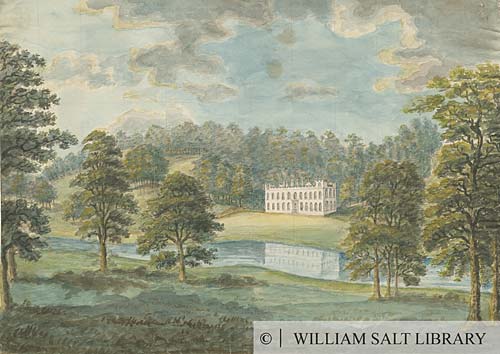 Earlier this year the Hall and remaining Estate was purchased by a group of local residents. A spokesperson for the new owners said that they are 'looking to move forward in a positive way which would deal with the Great Barr Hall and Park in a holistic manner, and to help facilitate a solution which would deal with the sites historic nature sympathetically and ensure the Hall and Park is sustainable for the long term and will not look to the public purse for day to day survival.'
The new owners have already created 7 full time local jobs in Walsall and Great Barr and have commissioned local conservation architects, Lapworth Architects, to manage the project. Since their appointment Lapworth Architects have been busy talking to Walsall Council and English Heritage and also to the Great Barr Hall Action Committee and the Beacon Action Group.
Lapworth Architects have worked for many years for a number of clients with significant heritage assets which include Calthorpe Estate on their 610 acre estate in Edgbaston. In addition the practice has worked on numerous listed buildings of all grades and are well used to working with English Heritage and other similar groups which will of course be required with the Great Barr Hall project. A spokesperson for the practice said they felt the practices 'expertise and experience will be pivotal in helping end the continued plight of the Great Barr Hall and the enthusiasm of the new owners will be also a very significant factor'.
Hopefully in the not too distant future the corner will be turned and the Hall and Park will be returned to something like its former glory.
All comments/ideas/suggestions are welcomed below!