The 45° Code is a measure used around the West Midlands by most councils to ensure that any extension work does not impinge on neighbours' outlook or access to light. 
The Code is designed to provide a fair balance between the wishes of the property owners who want to build and those of the neighbouring properties, by ensuring that new building work does not cross an imaginary 45° line drawn from the nearest front or rear window of adjacent residential accommodation. 
A window(s) must be the main source of light to a 'habitable room' such as living rooms, bedrooms, kitchens and conservatories but not bathrooms, utility rooms, halls, landings or garages. The Code aims to protect the outlook and/or daylight to nearby properties, and will take into consideration differences in ground levels.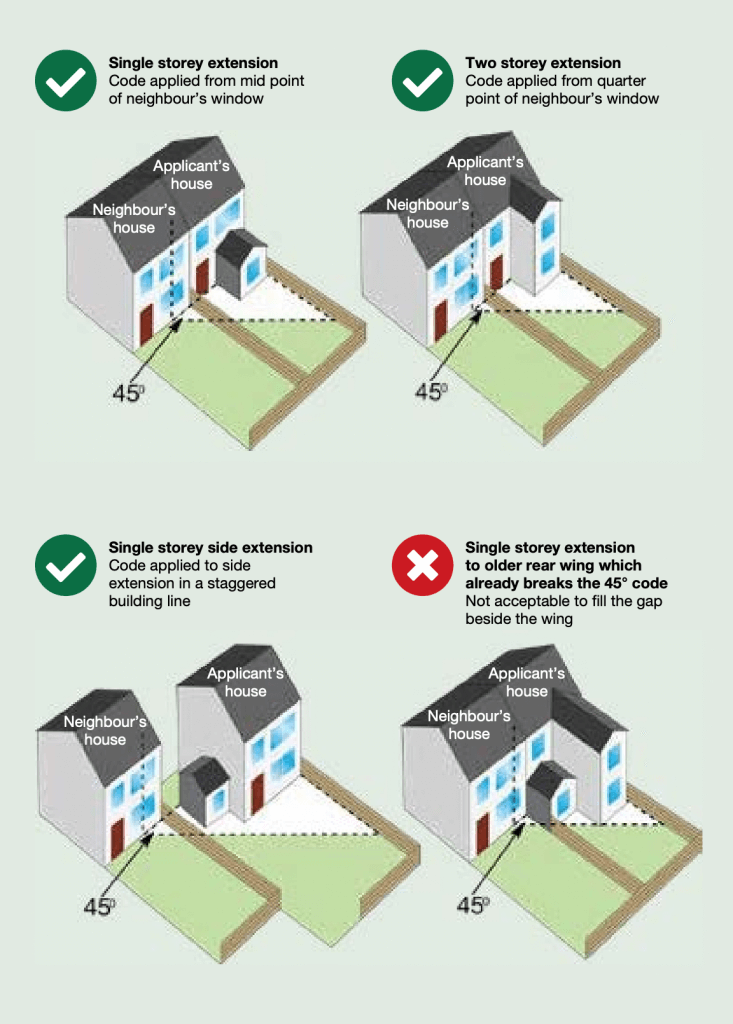 Single storey extensions and conservatories 
The 45° Code will apply to single storey/ conservatory extensions in certain circumstances, and if you are likely to want to add a further storey in the future, the ground floor extension should be undertaken in a manner to ensure it meets with the Code for two storey extensions. Single storey/conservatory extensions should be sympathetic to the character of your main property in terms of design, scale and materials. For conservatories the colour of the window frame should match the house. 
Where properties are in a Conservation Area or are a Listed Building, UPVC is unacceptable. Conservatories should be timber framed and painted rather than stained. Please avoid constructing conservatories into which bathroom and kitchen windows would open, where natural ventilation and light are important. 
Two or more storey extensions 
The extension should retain the character of your street in terms of the relationship between buildings and spaces, as well as any established views. It should respect neighbouring properties, and taking into account the 45° Code. To ensure that the two or more storey extension becomes an integral part of the existing building, roofs should be pitched, either gabled or hipped, to match the roof style of the existing building. 
Extensions on the side of a building should retain a minimum distance of at least 1m (3ft 3in) between the proposed extension and the boundary between your and your neighbours' property, and a distance of at least 2m (6ft 6in) between adjacent buildings.
Local considerations of the 45-degree rule
The Code has been widely adopted around the West Midlands, but not every council has integrated it into their planning documentation. It is specified as a consideration for Birmingham and Coventry City Councils, as well as Dudley and Solihull and Walsall borough councils, whereas Wolverhampton and Sandwell have no specific guidance on this particular area. 
The official Birmingham City Council code – with further illustrations – can be found here.